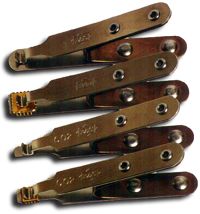 The technical requirements for Sealing Clips continue to evolve to keep pace with the growing number of new packaging solutions in the Semiconductor, Hybrid Circuit, and other Electronic industries

EAS sealing clips are used for a wide array of bonding and sealing applications in these industries. These include lid/package sealing, component attach to substrates, substrate attach to packages, substrate sandwich bonding heat sink attach to packages, die attach into packages, assembly fixture clamping and various others.

The design features of EAS clips accommodate the need for Improved Ergonomics, Higher Force, Lower Force, Lid Side Down Sealing, and Special Situation Clamping.
EAS continues to develop and manufacture all types of sealing clips to meet the needs of the industries. In addition to the general purpose applications, EAS now offers a broad line of clips with High Force Ratings and Improved Ergonomic Features. Broader use of polymers for lid/package sealing and substrate attach has increased the need for Higher Force Rated Clips.
Sealing Clips Are Available For All Sizes Of The Following Packages:
Chip Carriers - Leaded and Leadless
CQFP (J,U & SOJ types)
Ball Grid Array
Pin Grid Array (PGA) - Cavity Up & Cavity Down
Side Braze
Miscellaneous Hybrid & Custom Designs
Custom Designs For Various Substrate Bonding Applications Are Available
Additional Technical Notes and Free Evaluation Samples are available upon request for qualified prospects. Please contact us by phone at 724-838-7023 or by filling out our online contact form. Click Here